Athletics Program
SUMMER SPORTS­­­­­ CAMPS
Summer sports camp registration is now underway. You can register your child online at www.scdcamp.com or download the 2013 Summer Sports Camp Registration Form and return it to one of the two main school offices.

Mail - 200 North Roselle Road Schaumburg, IL 60194
Fax - 847-885-3354
Email -
SUMMER FITNESS DAYS
SCS offers free fitness programs for student athletes during the summer months. All participants must turn in a completed consent and release form.

HS GIRLS VOLLEYBALL M/TH 8:30 a.m.–10:30 a.m.

June July

11, 13, 18, 20, 25, 27 2, 4, 9, 11, 16, 18,, 23, 25

JH GIRLS VOLLEYBALL TUES 6:00 p.m.–8:30 p.m.

June July

4, 11, 18, 25 2, 9, 16, 23

JH GIRLS BASKETBALL TUES 10:30 a.m. –11:30 a.m.

June July

4, 11, 18, 25 2, 16, 23

JH/HS BOYS BOOT CAMP M,W,F 8:30 a.m.–11:00 a.m.

June July

17, 19, 21, 24, 26, 28 1, 3, 8, 10, 12, 15, 17, 19, 22, 24, 26, 29, 31

August

1

HS BOYS/GIRLS CROSS COUNTRY

TBA
2013 Preseason Season Information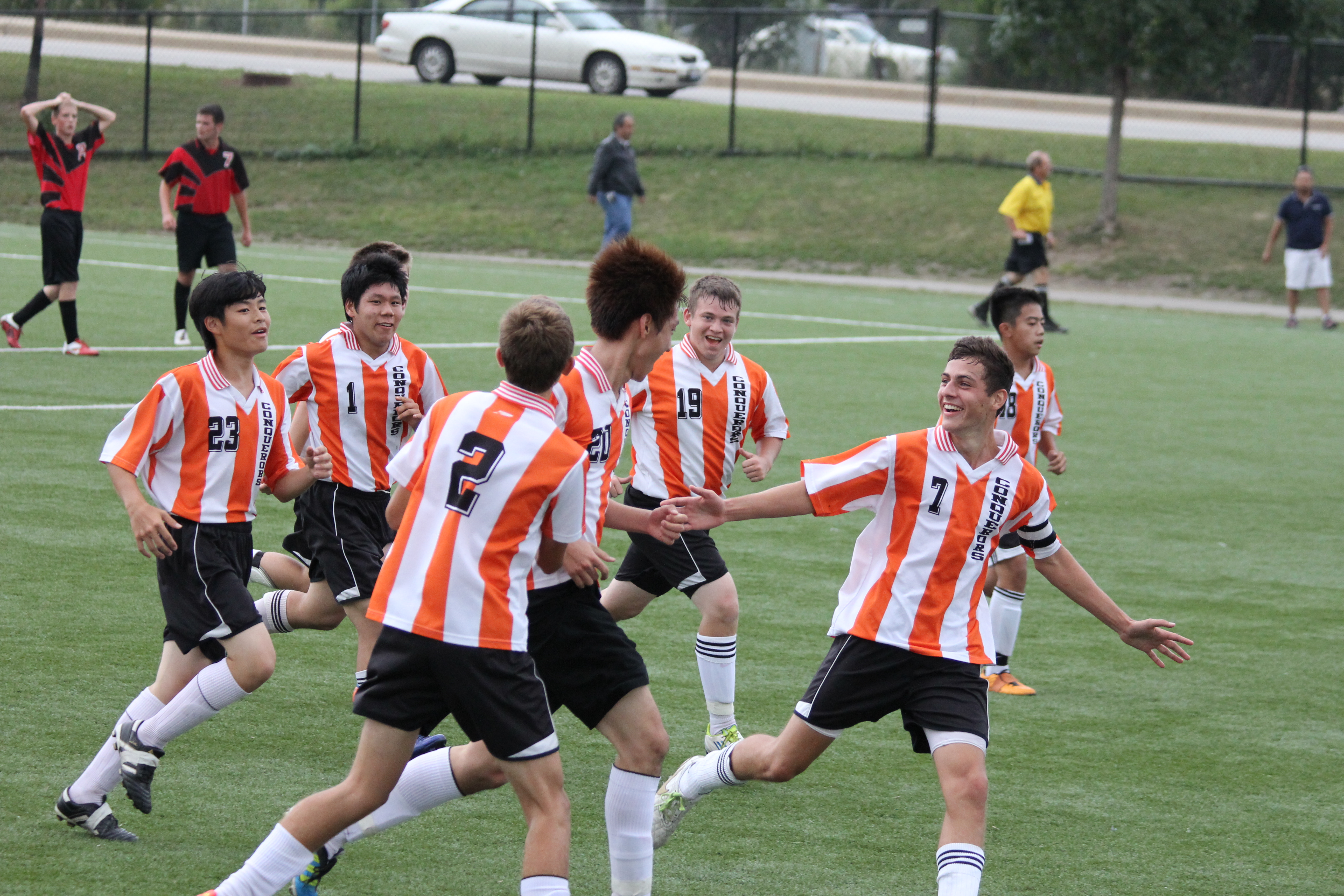 Boys Soccer and Girls Volleyball Preseason practices (Monday – Friday) will begin August 12. Please see the school online calendar for all dates and times.
Volleyball Preseason Practice - Monday, August 12 - 16/19 - 23
Jr. Varsity/Varsity - 8:30 a.m. - 11:00 a.m. - Life Center

Jr. High - 8:30 a.m. - 11:30 a.m. - Middle Gym
Soccer Preseason Practice - Chino Park - Monday, August 12 - 16/19 - 23
Jr. Varsity/Varsity - 8:30 a.m. - 9:45 a.m. and 2:00 p.m. - 4:00 p.m.

Jr. High - 2:00 p.m. - 4:00 p.m.
Athlete Requirements
Students will not be allowed to practice or play in a game without first submitting a current sports exam and Athletic Consent and Release Form to the school office.
Sport Physical Examination Form
A student who desires to play sports must have a sports' physical performed prior to participating. Sports physicals can be done at your regular doctor's office. Download a copy of the Sport Physical Examination Form.
The sports exam must have been performed within one year of the start of the specific sport and is only valid for one year from date of exam.
If the athlete is entering 9th grade, his/her 9th grade physical exam is acceptable as a sports exam - as long as the physician has approved the sport activity; however, a sports exam is not acceptable for a 9th grade physical examination.
The sports exam must be on an Illinois exam form, signed, and dated by the attending physician. We cannot accept a doctor's note or statement of exam; it must be communicated on a Sports Health Examination Form or an Illinois Child Health Examination Form.
Consent and Release Form
Each parent or guardian of an athlete must sign the appropriate Consent and Release form and return it to the school office.
Seasonal Sports Schedule
FALL SPORTS
Boys Soccer
Soccer practices are located at Franklin Chino Park
700-722 Evanston Street, Hoffman Estates, IL 60169
Home soccer games are located at Olympic Fields
1839 New Schaumburg Rd - Schaumburg, IL. 60173 see field map
Girls Volleyball (See Volleyball Calendar - click SPORTS in the drop down box)
WINTER SPORTS
Boys Basketball
Girls Basketball (See Basketball Calendar - click SPORTS in the drop down box)
Girls Cheerleading – TBA
SPRING SPORTS
Girls Soccer (See Soccer Calendar - click SPORTS in the drop down box)
T-Ball Leagues - Co-ed League (Kindergarten – Third Grade) Contact Coach Washburn
Baseball League – Boys (Fourth Grade – Sixth Grade) Contact Coach Washburn
Team Rules and Reporting
All sports adhere to the following organizations for team rules and statistical reporting for each sport:
National Federation Rules
Illinois High school Association
Illinois Association of Christian Schools
Athletic Facilities
Most of the athletic teams utilize SCS facilities for practice and competitions. Below is a description of the Schaumburg Christian School athletic facilities.
The recently completed Life Center now increases the athletic space of Schaumburg Christian School to include three full size state-of-the-art gymnasiums, two additional locker rooms, a new weight room, and a walking track.
The gymnasium features one regulation size main court and two cross courts on a wood floor, rectangular glass backboards, and excellent locker room and shower facilities.
This facility is shared by our volleyball and basketball programs for both practice and competition. It is also is used for physical education classes.
The soccer teams take advantage of two of the city parks for practice fields as well as home games.
Athletic Goals
Schaumburg Christian School maintains an active inter-scholastic sports program for all interested students who meet eligibility requirements. The goals of our athletic program include the following:
developing the student's mind, body and spirit
developing Christian character
building school spirit
honoring God through the area of athletics
In all sports, the coaches recommend athletes for awards based on participation, training, sportsmanship, cooperation, behavior, and attitude.
Boys Varsity Soccer and Girls Varsity Alumni Games
The SCS Varsity Teams will take on the Conqueror Alumni this Friday. Come out for some fun and entertainment.
Friday, August 17
Soccer Alumni Game – 2:30 p.m. – Olympic Park Field 2
Volleyball Alumni Game – 5:30 p.m. – Life Center Gym